Discover Little Harmony's massages
The benefits for your body and your mind
Discover the benefits of the massages offered by Little Harmony and choose a massage that suits your personal needs.
Swedish massage "The athletic"
Do you expose your body to an intense and regular sport activity or a physically demanding job? Entrust to the benefits of swedish massage and meet your needs naturally. Learn more.
Ayurvedic massage "The therapeutic"
Originated in traditional Indian medicine (Ayurveda), Ayurvedic massage it is all about rebalancing energies. Treating both : physical and emotional health it provides help in states of fatigue, nervousness or hormonal disorders (premenstrual syndrome, menopause, ...). Learn more.
Chair massage (Amma) "Tiny but Powerful"
Traditional method native to Japan - AMMA is an acupressure technique. It uses pressures which allows to work the precise points on your back, neck, arms and hands. The sequence of specific movements AMMA aims to unblock the energy nodes. You benefit from physical and psychological relaxation at once. Learn more.
Korean relaxation "Lazy Yogi massage"
The ultimate anti-stress technique. The Korean Relaxation combines a series of breaths, body vibrations, swaying and stretching that give you total well-being sensation. Suitable for children from 7 years old and teenagers. Learn more.
Discover Little Massages's loyalty program.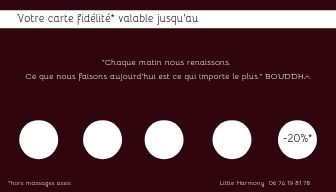 Enjoy 20% off for your 6th massage. *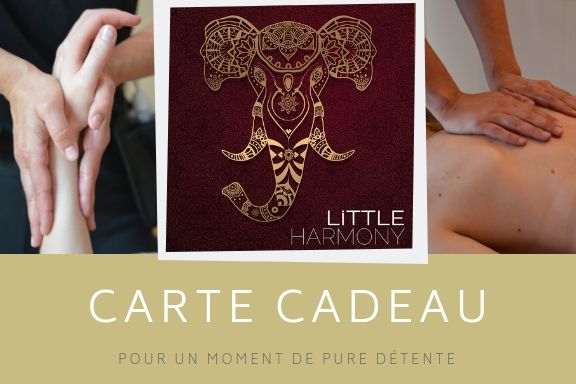 Offer a wellness massage with our gift card.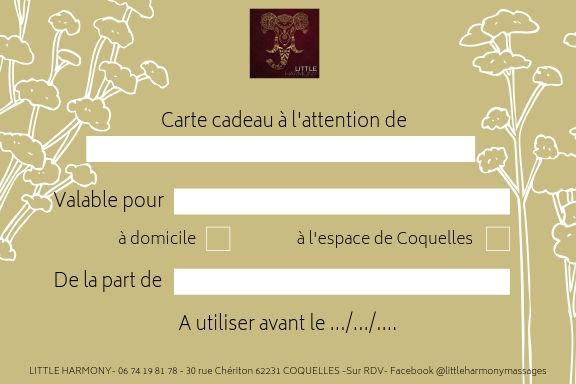 For a moment of pure relaxation.